It has been well over a year since I've done ship introductions but in the light of recent news I think it's needed.
This is also the 50th post to this blog.
Name: MS Silja Europa
IMO number: 8919805
Built: 1993
Lenght: 201,8m
Beam: 32,5m
Draught: 6,8m
Tonnage: 59,914 GT
Type: Cruiseferry
Speed: 21,5 knots
Capacity: 3644 passengers, 932 lanemeters
Status: Chartered, currently in Paljassaare Harbour
Silja Europa was built in the Papenburg yard of Meyer Werft, which is known as the birthplace of many great passenger ships, among others many Costa, Norwegian, Celebrity and Royal Caribbean ships, the whole AIDA Sphinx class, but also the late Viking Sally, finally known as Estonia. Ever since her delivery she has not gone any farther than her birthplace, nor outside the Baltic Sea at all. She was initially built for Rederi AB Slite, which was a part of Viking Line, and was to be named Europa. She was the world's largest cruiseferry by gross tonnage until 2001 and still remains by far the largest by passenger capacity. In fact, she carries about as many passengers as the
Royal Princess
. She was also the location of the first ever floating McDonald's restaurant until 1996.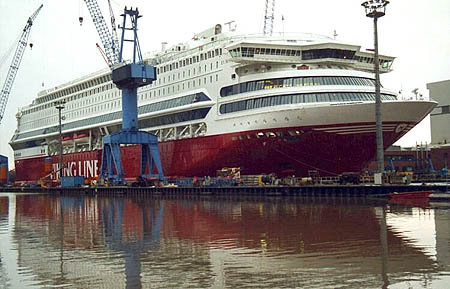 Europa at the shipyard in Viking Line colours, almost complete.


http://www.simplonpc.co.uk
She was almost ready to be delivered, but then the Swedish krona was devaluated, leaving Slite unable to pay for her. She was then chartered to rival Silja Line, who finally bought her from the shipyard. She was initially placed on the Helsinki - Stockholm route. In September 1994 she was the first one to receive the mayday call of MS Estonia and her captain Esa Mäkelä initially led the rescue operation. In 1995 she was put on Turku–Mariehamn–Stockholm route where she served until early 2013, with minor exceptions. During her service she saw some incidents, just like all ships do. For example, in 1998 she collided with a small sailing boat in thick fog. The boat sunk and Silja Europa rescued the passengers with a lifeboat. In 1998 she crashed into the pier in Mariehamn due to strong winds. In 2000 she had problems with one of her propellers and was taken out of service for five days, in 2001 her autopilot broke down and she had to cancel a cruise. In 2009 she damaged her steering system and was taken to Gdansk for repairs.
In 2006 Silja Line was bought by Tallink, along with the Silja Europa. She continued sailing under the Silja Line brand until early 2013 and in her first 20 years of service she had the Silja Line livery with only minor changes over the years.


In 2012 she was repainted with the new Silja Line logo; the funnel had been painted blue in 2000.
© Kalle Id
In January 2013 she swapped routes with Baltic Princess and started serving the Tallinn-Helsinki route, mainly cruises directed for the Finnish market. In addition to changing route she was transferred from Silja Line to Tallink. During that era I had the honour to go on board twice,
first with the purpose of transport
and
a year ago I celebrated my birthday on a cruise
. She still remains one of the mightiest and most impressive ships I've seen.
Approaching Helsinki in her latest livery
A bit less than a month ago I heard rumours that she would be taken out of service soon and later those rumours turned out to be true, as stated in the following press release, published on the 21st of July:
AS Tallink Grupp and Bridgemans Services Ltd. have entered into a charter agreement to charter the cruise ferry Silja Europa to Australia from August 2014 as an accommodation vessel.



The period of the charter is at least 14 months with an option to extend up to 48 months. In relation to the above initially the following re-routings are planned in our operations:

Baltic Queen

which is operating on Tallinn-Stockholm today will change to Tallinn-Helsinki route presumably on 7 August 2014 and

Romantika

which is operating on Riga-Stockholm route today will change to Tallinn-Stockholm route.

Isabelle

will continue the service on Riga-Stockholm route.
On the 6th of August she did her last crossings and since then she has been laid up in Paljassaare. From what I've heard, she will leave Tallinn in early September, possibly for good. The changes in the rest of Tallink's fleet may not be final either; I'll keep you updated. After she leaves the Baltic Sea, she will go farther than she has ever been before.
Leaving for her last scheduled voyage to Helsinki
Next day in Paljassaare